Following a military crackdown in Rakhine State in Myanmar in 2017, more than 700,000 members of the Rohingya community fled mass killings, enforced disappearances, rape, torture, and other violations. These refugees joined already overstretched camps in Bangladesh, now home to.
As part of the 'Justice for All' program, AJAR and its partners are supporting Rohingya women survivors in the refugee camps in Cox's Bazaar, building solidarity to strengthen a multi-ethnic movement for justice. Using the 'stone and flower' methodology, which combines psycho-social help with learning and empowerment, women participants learn facilitation skills, basic principles of human rights, as well as healing and peer support techniques
In March 2019, the Liberation War Museum (LWM) of Bangladesh with Asia Justice and Rights (AJAR) conducted a participatory study with 87 women in the Rohingya Refugee Camps, Bangladesh. The workshops were conducted between 13-30 March with women from over 8 different camps.
As part of our holistic approach, we wanted to create a process to heal, build solidarity and peer support among women survivors through action research. Our goals were to raise the voice of women in a way everyone could participate, irrespective of education, literacy levels and age. To do this, we needed to create a process where activities were focused on looking forward as much as looking back. Our findings from the workshop and the sewing sent a strong message of hope from the women and that there is still much to remain optimistic about. Despite the unimaginable sufferings and trauma these women have experienced, they continue to live every day with hope for the future of their children, their community and themselves.
What are we doing in Bangladesh?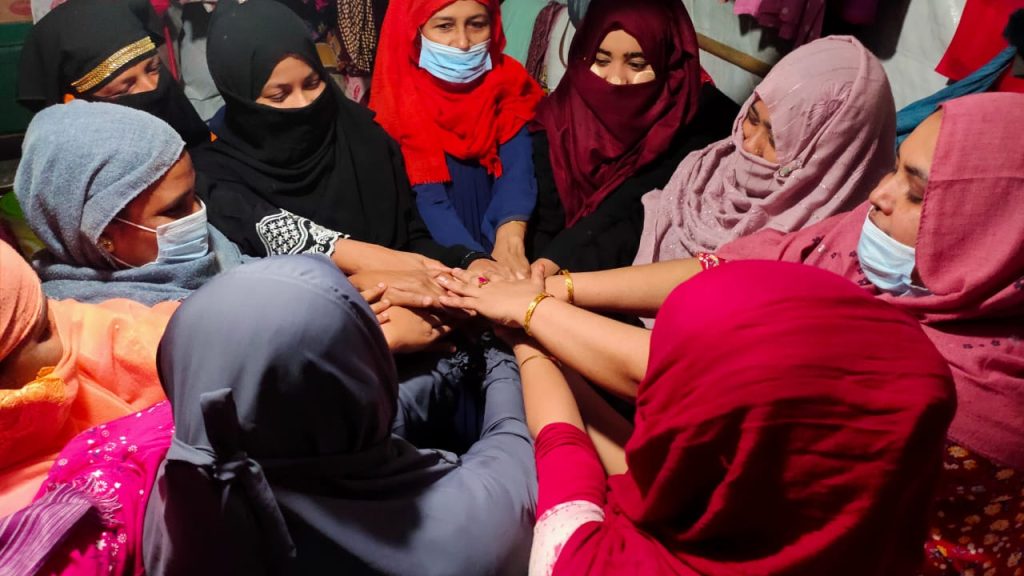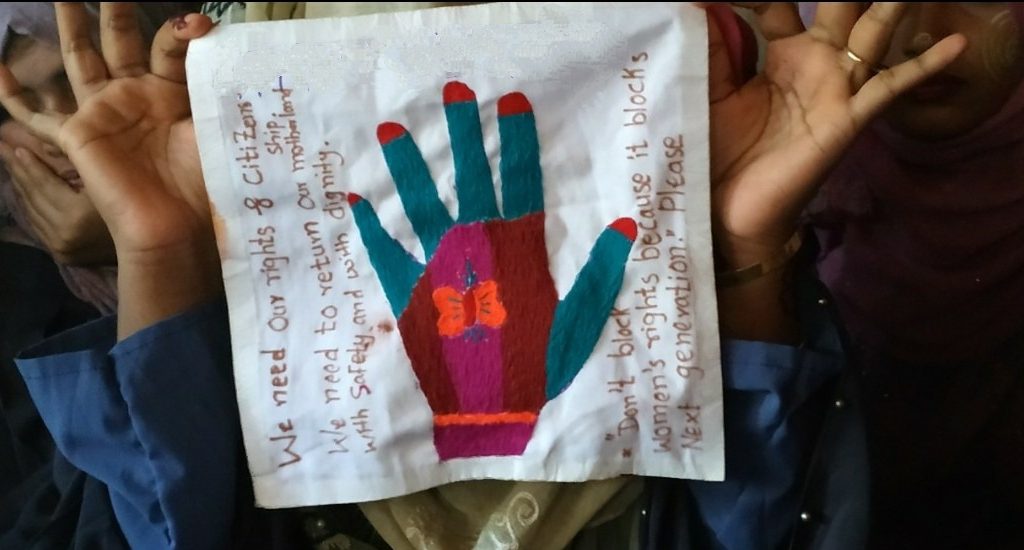 Highlights of Programmes in the Past Year
Promoting awareness and understanding
As part of its long-term empowerment of women survivors living in refugee camps in Bangladesh, AJAR supported activities embroidering cloth panels representing survivor stories, which were sewn together into a 'quilt of memory and hope.' After events in Dhaka and Jakarta, an online exhibition displayed the quilt, with quotes from the survivors, and a short video explaining its significance.
Developing capacity
Working in the world's largest refugee camp of over one million Rohingya in Bangladesh, AJAR continued empowering a group of 90 Rohingya women using participatory approaches and, with the Liberation War Museum, developed remote-learning classes, covering human rights and the pandemic, refugee rights, international justice, and self-care.
Strengthening linkages and increasing social capital of human rights defenders
AJAR is one of six leading human rights organizations that founded the Asia Justice Coalition or AJC, and is a member of the steering committee, with the secretariat hosted by Amnesty International. A focus of the AJC is seeking justice for the horrific crimes committed against the Rohingya by the Burmese military in 2017, including the killing of some 10,000 people, and the torture and aggravated rape of hundreds of women, leading to the forced displacement of more than 700,000 people. Activities included support to lawyers conducting the Rohingya case in the International Court of Justice, and bringing voices of victims to high level UN and other forums.
Contributing technical assistance, along with policy and legal inputs
AJAR contributed to regional and national links to UN bodies, including providing advice to the International Criminal Court on the Rohingya case, and collaborative advocacy to international bodies on the situation in Myanmar.