Methods
Asia Justice and Rights or AJAR is a non-profit organization based in Jakarta, that focuses on strengthening human rights in Asia and the Pacific. Its mission is to build cultures based on accountability and justice, and to prevent the recurrence of state-sanctioned human rights violations. Combating impunity and building strong mechanisms to achieve accountability and respect for victims are essential elements in the quest for peace and prosperity.
AJAR emphasizes south-south learning through regional trainings, workshops, exchanges, research studies, and advocacy initiatives. Culturally appropriate, innovative, and participatory methodologies are employed to ensure learning opportunities succeed and lessons are retained and applied.
AJAR is committed to its vision of building just and accountable societies, free from impunity. To achieve this it applies a theory of change that envisages four building blocks – awareness raising, capacity development, social capital, and policy change. These blocks do not need to be sequential, rather context and need determine what is required and when.
Theory of Changes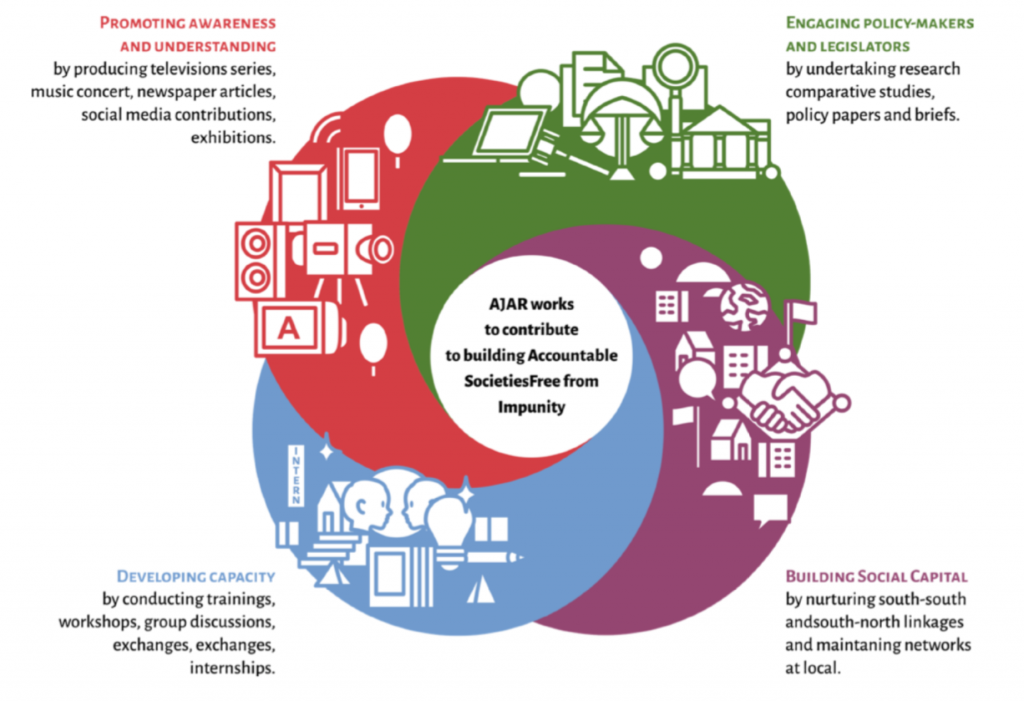 Timeline
Building-block one introduces the concept of gender-based violence to the general public, and strengthens their awareness and understanding of violence against women and girls;
Building-block two builds capacity and trains dedicated individuals and organizations to improve their efficiency and effectiveness to challenge the status quo, and to bring about positive and lasting change to social norms;
Building-block three helps to link those who are working on these issues in their local communities, and with national, regional, and global platforms; lastly, building-block four embeds this change by engaging and influencing policy-makers to regulate and legislate, thereby affecting long-term sustainable change and reducing future incidents of violence against women and girls.