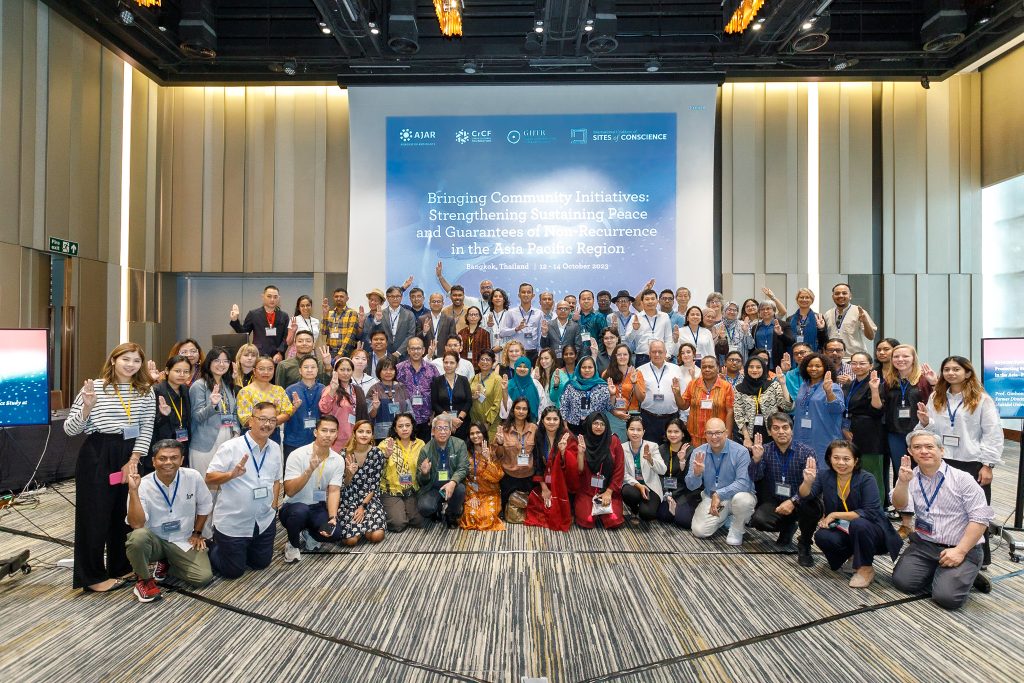 From 9 to 14 October 2023, an international summit bringing together a regional network of individuals and organisations for truth, justice, and peacebuilding unfolded in Bangkok, Thailand. Hosted by Asia Justice and Rights (AJAR), Cross-Cultural Foundation (CrCF), the Transitional Justice Asia Network (TJAN), the Global Initiative for Justice, Truth and Reconciliation (GIJTR), supported by the International Coalition of Sites of Conscience (ICSC) and the European Union (EU), the summit bore the theme, "Strengthening and Sustaining Peace and Guarantees of Non-Recurrence in the Asia-Pacific Region".
The primary focus of this summit was to highlight the importance of inclusive narratives and community-led approaches in transitional justice and peacebuilding processes. The 5-day event allowed participants to reflect and share practices and lessons learned from conflict transformation, peacebuilding, and non-recurrence across the Asia-Pacific region With 100 representatives hailing from over 22 countries within the Asia-Pacific Region, the summit served as an inclusive platform to discuss initiatives, challenges, and lessons learned on human rights documentation, truth-telling, and memorialisation in promoting sustainable peace. The summit features panel discussions, roundtable dialogues, interactive workshops, and community visits to sites of conscience in Bangkok.
The summit commenced with an introduction from Dario Colmenares of the International Coalition of Sites of Conscience (ICSC). He shed light on the summit's history, tracing its origins to a prior gathering in Jakarta in 2022. His narrative came to life with the tale of the Rohingya Oral History Archive, a project first discussed at the 2022 summit, which has since evolved into a living project, demonstrating the tangible impact that can emerge from these fora.
Galuh Wandita from Asia Justice and Rights (AJAR) added a touch of optimism to the opening session. She likened the summit to the "slivers of light in the darkness," emphasising the collective resilience and solidarity that emerges when diverse organisations work together. Despite the daunting international and regional challenges, these organisations have managed to find a new energy and purpose through their collaboration. A point echoed by Pornpen Khongkachonkiet from Cross-Cultural Foundation (CrCF), of the importance of involving stakeholders, survivors, and local communities in the transitional justice process.
The summit's keynote speaker, Prof. Gothom Arya, former Director of the Institute of Human Rights and Peace Study at Mahidol University, Thailand, challenged attendees to think beyond sustainable peace and seek perpetual peace. He stressed the need to build strong institutions and resolve conflicts before they turn violent – illustrating that while conflict may be a part of human nature, violence is not inevitable. He posed the critical question of why non-violence should be embraced and explored strategies for resolving conflicts peacefully. The discussions on transitional justice, he added, should begin at the very onset of conflicts.
An accompanying exhibition to the summit, Innovative Initiatives from the Ground: Peacebuilding, Conflict Prevention, and Accountability is also showcased, displaying body-maps and artworks made by survivors and their communities across Asia. Participants also saw the virtual relaunch of the UN Secretary-General Guidance Note on Transitional Justice: A Strategic Tool for People, Prevention, and Peace – which serves as an essential guide for civil society organisations in strengthening peace.
The summit witnessed a rich facade of discussions, workshops, and panels that delved into topics like youth engagement in peacebuilding, countering hate speech and disinformation, community reconciliation, and the role of arts in peacebuilding. Each panel allowed participants to exchange experiences and learnings from their diverse local contexts. From South Korea to Timor-Leste, Nepal to Bangladesh, Myanmar to Thailand, Indonesia to the Solomon Islands, participants painted a vivid picture of their region's unique challenges and the creative ways in which they were addressing them. Their stories emphasised the importance of youth involvement and women as agents of peace, promoting inclusivity in transitional justice, and the vital role of civil society in shaping the future of their nations.
Participants engaged in discussions regarding the role of civil society in conflict transformation and the promotion of inclusive narratives as peace enablers. Through discussions, participants reflected on the importance of women as agents of peace and the need to create spaces for youth engagement in peacebuilding.
In light of the ongoing crisis in Myanmar, participants discussed the essential role of ASEAN in providing regional support for truth and justice processes, underscoring the importance of regional cooperation. Considerable importance was also attributed to the experiences, aspirations, and community-led approaches to truth and justice of the Rohingya community in confronting the ongoing human rights violations in refugee camps in Bangladesh, and across the region.
On the last day, participants explored the vibrant city of Bangkok as a fitting complement to the summit, visiting significant sites of conscience, including the Democracy Monument. This visit allowed them to delve into the politics, democracy, and human rights movements shaping Thailand's recent history.
As the summit drew to a close, participants – civil society organisations, survivor communities departed with a promise of shared platform and network across Asia-Pacific, where they have been able to share knowledge, develop practical initiatives to ensure inclusive narratives, and promote successful transitional justice initiatives. It is through a summit like these that dialogue and peacebuilding initiatives continue to be passed on in the region, proving that even in the face of crisis and adversity, together we can promote sustainable peace, guarantees of non-recurrence of mass human rights violations, and build social movements for peace and reform in the region.