Our friend, Noor Azizah, wrote this post on her visit to Kutupalong Refugee Camp in Cox's Bazar, Bangladesh. She is a former Rohingya refugee, resettled with her family in Sydney in 2003 at the age of 8, having fled the genocide of Rohingya people in the Rakhine state of Myanmar. Today the young girl who arrived in Australia disoriented, with no schooling or English, is a primary school teacher motivated to help the next generation of children just like her.
My family and I experienced structural, direct and cultural violence. The division of the Rakhine state drastically affected our daily lives. We lost our citizenship, employment, schooling and marriage were restricted, and our land rights were revoked. We experienced violence. The military junta burnt our homes and threatened my family with guns and physical violence. The military provided explanations to their people to justify these actions. This forced us to leave. We escaped Myanmar by foot and ended up stateless in Malaysia, where we endured structural discrimination. We were forbidden from practising our religion and culture, and this trauma continues to affect me and my family. In 2003, the Australian government granted me and my family asylum, for which we are incredibly grateful. Many Rohingya communities aren't as lucky — they are left stranded. My visit to Kutupalong Refugee Camp left me with many thoughts and questions.
Of Values, Language, and Culture
Walking down the entrance, listening to my native tongue spoken by people in my surroundings was unusual. I felt proud to hear the language being spoken and thought about what it would be like for Rohingya people to live in a harmonious society, where they were able to freely speak their language and practice our culture. As I walked through the camp, I could smell dried fish and hear children playing with their friends. I had an opportunity to interact with Refugees living in the camp.
The thirst for education was clear. They seek formal education, but there exist no such opportunities in the camp. One participant I spoke to said, "I am really wanting a future for myself and my children, I am only 19 years of age but still have hope for my education, I am wanting to make something for myself". The cycle of poverty can only end if formal education is accessible to the community. Some participants spoke about repatriation and wanting to go back to their homeland. They advised that many want to go back but that it is unsafe to do so after the 2017 attacks. Many fled the Rakhine state following these attacks. The loss of a loved one seemed a common experience. One participant explained that they left after the attack and witnessed their brother being shot by the Burmese military.
Cultural Memory of the Rohingya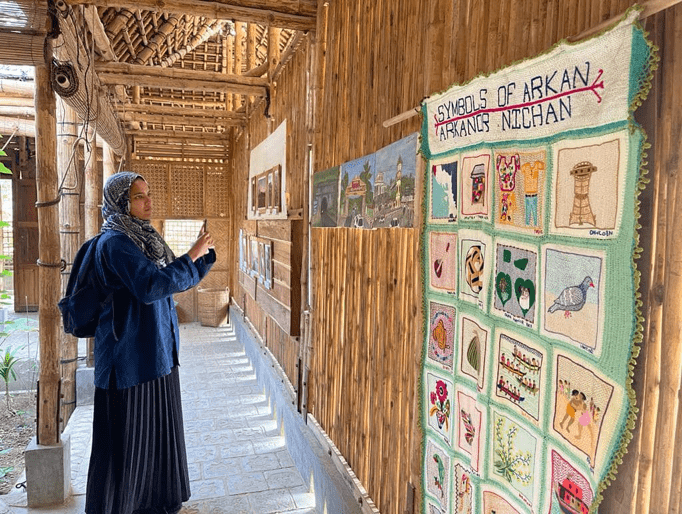 Whilst at the camp, I had a chance to visit the Rohingya Cultural Memory Centre. The Memory Centre had a range of preserved cultural knowledge and artefacts, displayed through paintings, weaving, and collection of objects such as musical instruments, kitchen utensils, pottery and embroidery. I took every opportunity to maximize my time at the centre. I felt privileged and humbled to be able to learn about my own culture and that many aspects of culture have been preserved. A young Rohingya man guided me through each station, explaining with deep knowledge.
What Do We Want?
The government of Myanmar persecutes the Rohingya people on the basis of ethnic and religious differences. It benefits politically and economically from the continued persecution of the Rohingya people. The government uses the land stolen from the Rohingya people to, among other things, attract foreign investment. They drive Rohingya people from their ancestral lands, forcing many to flee to Bangladesh. They sanction violence against Rohingya, culminating in what can only be called genocide. This violence is often physical — murder, rape and beatings are tangible manifestations of this genocide. They also use less tangible methods to persecute the Rohingya people which have an equally devastating impact. They have stripped the Rohingya people of their citizenship, access to education, employment, housing and other basic human rights. I hope for the safe repatriation of the Rohingya people, where their citizenship, freedom of movement, land rights and fundamental human rights are restored. I hope for justice. Justice that ensures the Rohingya people are free to practice their culture without fear of persecution and violence. We need the International community to step in to help us with the plight of the Rohingya.
The reduction of food has been implemented by the UN where Rohingya refugees are given 27 cents to live per day. This is unlivable and malnutrition is already an ongoing issue amongst the Rohingya community. This will impact children, women and families. People can't eat resolution papers or meetings but people need food. This is one thing we can do to keep refugees going especially those already living in dire conditions. It is extremely sad for the Rohingya diaspora as we are always thinking about our brothers and sisters living in constant fear and uncertainty. We are also impacted and receive flak that is caused by the Myanmar military. It is traumatising. They are us and we are them. People will resort to other avenues such as theft, prostitution and human trafficking which causes further violence in camps due to the reduction of food. International communities have cut funding for the Rohingya and the military junta in Myanmar still has access to machinery weapons. Countries that are providing weapons and machinery guns need to immediately stop providing Myanmar with these amenities that cause further violence for the Rohingya community. It needs to be stopped and it is not happening fast enough. The Rohingya people are forgotten and people will die if the International community does not step in.