"During the period of conflict in Timor-Leste, sexual violence had a profound impact on its victims and on the general community … Long after the incident itself, sexual violence continues to affect the lives of survivors in their physical and mental well-being and in their social status."

Chega!, 2005 final report of the Comissão de Acolhimento, Verdade e Reconciliação de Timor Leste (CAVR, Commission for Reception, Truth and Reconciliation in East Timor)
In commemoration of the International Day for the Right to Truth on 24 March 2023, Asia Justice and Rights (AJAR) and Asosiasaun Chega! Ba Ita (ACbit) held a national seminar on the Right to a Remedy and Reparation and a discussion on the draft policy on reparations in Timor-Leste. In the seminar, AJAR and ACbit also took the opportunity to launch the Short Country Study on the Opportunities and Challenges to Providing Reparations to Survivors of Conflict-Related Sexual Violence, titled Bukae ba Sobrevivente.
The study presents and analyses survivors' perceptions of, and expectations for reparations, and offers practical, concrete and context-specific recommendations to policymakers and other relevant actors at national and global levels to inform the design and delivery of survivor-centred reparations in Timor-Leste.
Furthermore, Bukae ba Sobrevivente also seeks to establish whether survivors of conflict-related sexual violence have already received any form of assistance and/or reparation through government programs or from civil society initiatives, and if so, what lessons can be learned from those experiences, to inform the design and delivery of comprehensive reparations in the future, including the potential delivery of interim reparative measures by Global Survivors Fund (GSF).
Throughout the seminar, participants from ministries, civil society organisations, and survivors discussed the importance of implementing the recommendations of the Comissão de Acolhimento, Verdade e Reconciliação de Timor Leste (CAVR, Commission for Reception, Truth and Reconciliation in East Timor) related to survivors' rights, in an effort to continue pushing reparations at the national level. Women survivors' efforts to through supporting each other in a spirit of solidarity are also highlighted, as we witnessed in July and October 2022 women survivors of conflict-related sexual violence have formed a new national organisation, Pirilampu Klibur Sobrevivente Feto 1974-1999 (Fireflies Forum of Women Survivors 1974-1999) as a vehicle for self-empowerment, outreach, and advocacy.
Reflecting on the study, Manuela Leong Pereira of ACbit emphasised, "Pirilampu (fireflies) only shine a small light, but if they alight together, and in a lot of places, they will shine the light in the darkness that shines inside of them all." She noted that the process of identifying and putting the survivors together makes them strong because they feel that they are not alone amidst the violations that many people have also faced.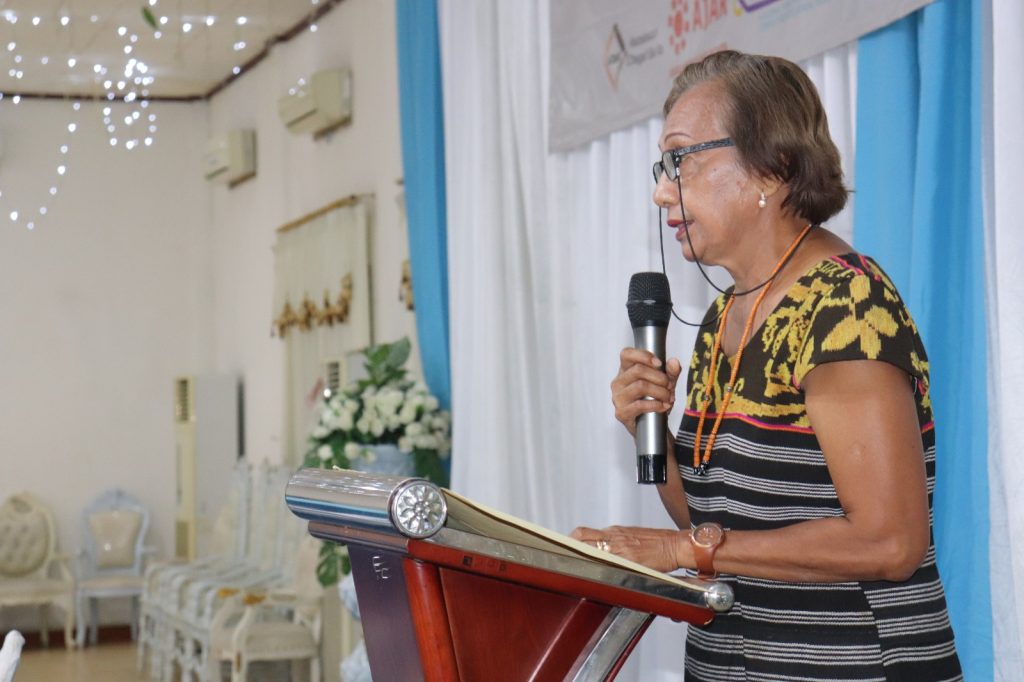 Maria Isabel, the coordinator of Pirilampu, stated to the government representatives present, "Reparation requires the political will of the leaders who will be elected soon, in order to pass the legislation that we are preparing. I call on your to make this commitment to advance our rights." On a discussion note, listed on the Bukae ba Sobrevivente, the urgent need for reparations is also felt by many survivors, as survivors' children continue to suffer, both in stigma and in poverty. Many couldn't complete their education – in their communities they were discriminated against and left out. Now they can't get jobs, they don't have good housing and they can't give their mothers the support they need.
A survivor, in an interview after the event, shared, "So many women victims have already died and no-one knows their stories." Through the study, both AJAR and ACbit hoped that it will become the basis of longer and more robust advocacy for a nation-wide fulfilment of the right to reparations for survivors.
Alongside developing the Study, Executive Director AJAR Timor-Leste Jose Luis de Oliveira, has assisted the National Reparations Working Group through MSSI in developing a draft Policy on Reparations for all survivors. This policy hopes to address at the National level, the experiences of Timorese people who suffered human rights violations throughout Timor-Leste's struggle for independence.
A short version of the study, titled Bukae ba Sobrevivente (Bukae for Survivors) is now available for download. GSF will release the full version on their website.