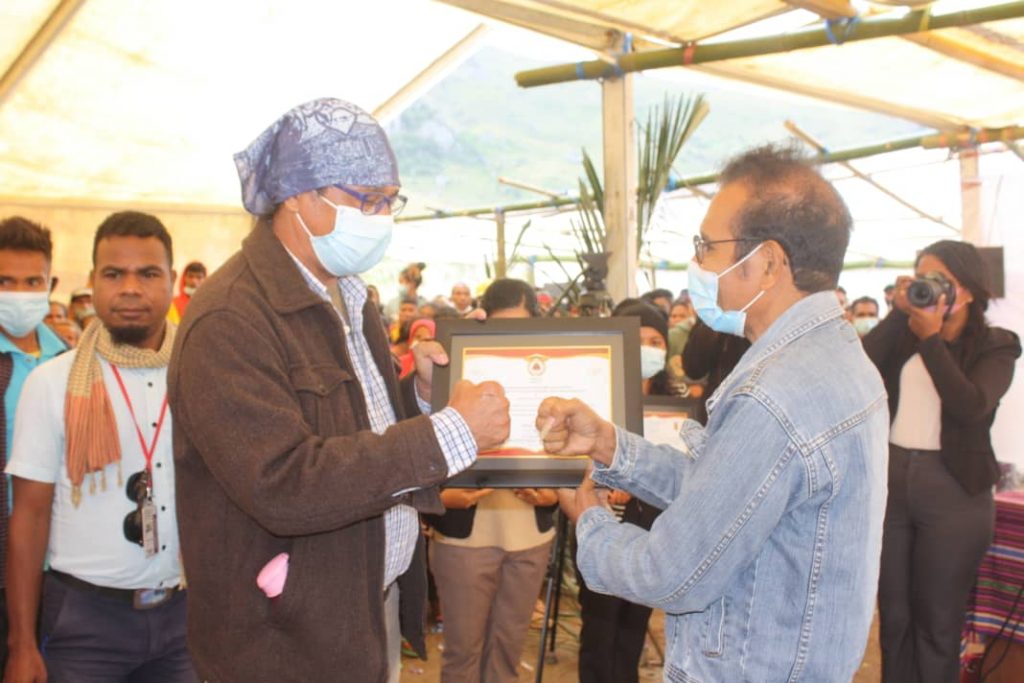 On 21 August 2021, AJAR received an award from the Prime Minister of Timor-Leste Taur Matan Ruak on the Movement of Civic Citizens. The honour took place in Waibitae Administrative Post of Quelicai, Baucau Municipality, on the National Civil Society Retreat occasion, together with members of the VIII Constitutional Government. Waibitae, which is located between two Matebian mountains, Matebian Feto and Matebian Mane, is a historical place. Between 1977-1978, the community of refugees in search of shelter in this location was killed due to the presence of the Indonesian military. They were attacked form the air and the sea by the Indonesian military.
The award credited to AJAR was based on a duty and dedication of AJAR to carry out participatory action research for women survivors from the past conflict in Rotuto, Dame, who managed to document the history of women survivors in the resistance period to teach in schools. Other works are linked to the search and reunion of stolen children at the time of war with their families and AJAR's intervention to defend and promote human rights.
There are more than 30 organisations that competed for the award by the Prime Minister's Office. However, after selection and verification by a team of representatives from the Civil Society Support Office, Social Audit Office, FONGTIL and Rede Feto, 16 NGOs were nominated for the award. There were 12 NGOs from municipalities and four national NGOs.
The award is a part of the Government's strategy to strengthen the delivery and dedication of NGOs to be a critical partner of the Government in developing the country.