"Don't Bury the Truth; Speak Even if not with Words!"
The Rumoh Geudong monument was officially dedicated on 12 July 2018 with about a thousand people—including survivors and people from Pidie and Pidie Jaya Districts in attendance. From 1989–1998, when Aceh was declared a Military Operation Area, Rumoh Geudong was used as an Indonesian military post and a site of crimes against humanity, including torture of anyone suspected of being associated with the Free Aceh Movement (GAM).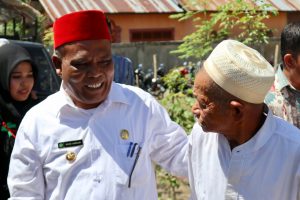 Pidie Regent, Roni Ahmad, dedicated Rumoh Geudong monument. "This monument should be a lesson for us all to continue to do our best in developing and caring for the welfare of society. Do not forget what happened in the past and continue to take steps towards the future; do not dissolve in sadness about the past," said Roni with emotion.
Following the dedication of the monument, survivors and the people of Pidie Regency prayed together with their religious leader, Teungku H Muhammad Yusuf A Wahab. The Chair of the Aceh Truth and Reconciliation Commission, Afridal Darmi, and the Commissioner of Komnas HAM (the National Commission on Human Rights), Choirul Anam, also attended the dedication.
This event was initiated by Paska Aceh, KontraS Aceh, and AJAR, as part of an initiative to support victims of torture. According to Paska Aceh Director, Farida Haryani, through this event survivors can gather to support each other as a manifestation of their hope. "Survivors wait for justice, but justice never comes for them. Yet they continue to survive and do not forget about what happened to them in the past. That's why they choose Jangan Kubur Kebenaran; Bersuaralah Meskipun tak Jadi Kata!—Don't Bury the Truth; Speak Even if not with Words! as an expression of their strength and their patience," said Farida.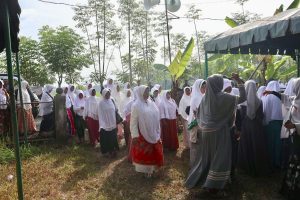 This monument is an effort by survivors and civil society to commemorate and demand justice for the violations they experienced, victims and survivors of the Rumoh Geudong violence prayed together and inaugurated a memorial at the site. This monument shows the resilience of victims and survivors of Rumoh Geudong—that they still stand erect and survive, despite having the foundations of their lives destroyed by the past conflict. With this monument, victims and survivors are calling on the state not to bury the truth about what happened during the period of conflict. Certainly this monument also serves as a hope of the survivors and victims that their children and grandchildren will continue to remember the experiences of the victims.
Since 2016, AJAR has supported Paska Aceh in truth-seeking efforts for victims of the Aceh conflict. This memorialization event was also a part of this truth-seeking effort for victims. Besides this memorialization, Paska also conducts documentation with victims using methods from AJAR's manual, Stone and Flower: A Guide to Understanding and Action for Women Survivors.