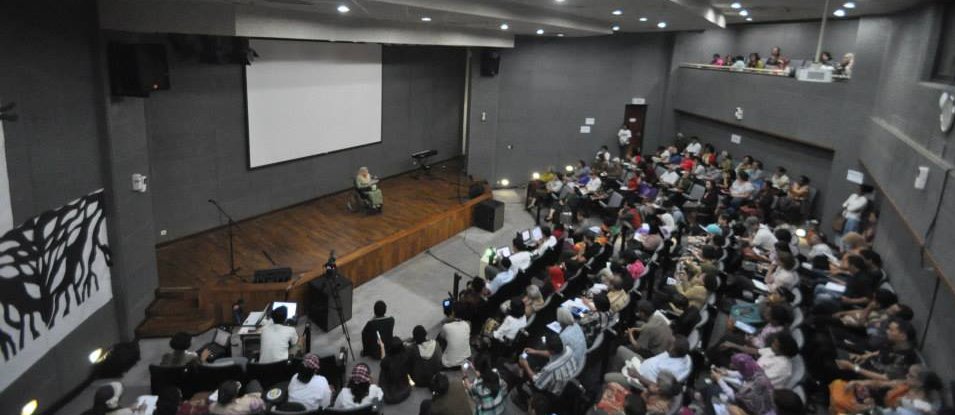 The "Year of Truth" is a civil society campaign by Indonesia's Coalition for Justice and Truth (KKPK) to amplify the voices of the victims of Suharto's New Order regime (1965 -1998).  From Aceh to Papua, thousands of victims of serious human rights violations have yet to be acknowledged by the Indonesian government. The Year of Truth campaign has given these victims a platform to speak out about their experiences and share their demands.
Established in 2009 to advocate the re-drafting of a national law on establishing a truth and reconciliation commission for Indonesia, the KKPK is conducting a campaign on the right to truth. AJAR is one of a coalition comprising more than 47 NGOs, institutions and individuals from across the country who have grouped together gather information on the victims and the human rights abuses that took place, and to facilitate testimonies about these violations.  The focus in on  violations that took place between 1965-2005, beginning with the communist purges in the early stages of the New Order regime, and culminating in 2005 with the case of the assassinated human rights' activist, Munir Said Thalib, and the peace agreement between Indonesia and the Aceh Free Movement.
The KKPK is assisting survivors of this era to document their own stories using multimedia, and has organized ten victims' hearings that were facilitated by a "Citizens' Council," a committee of 22 prominent national figures who strongly believe in the recognition of Indonesia's violent history as the keystone for the nation's transition to democracy.
The KKPK has vowed to pursue its cause of bringing the truth to light, and will publish a final report on the 40 years of violence in Indonesia, which will include a compilation of its findings, as well as recommendations for the State for use as a roadmap in addressing its past human rights violations.
LINKS:
Coalition for Justice and Truth (KKPK); http://kkpk.org/tahun-kebenaran/
Twitter: @koalisi_kkpk, @bicarabenar